TEAMS! So Powerful! So Frustrating.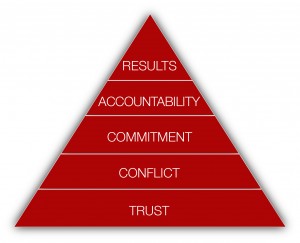 Great teams produce great results but getting to the point of being a "great team" is crazy hard. It takes work. Beyond that, it's not just a matter of putting in the work – it's a matter of dealing with ugly stuff like relationship dynamics, trust, conflict, accountability, and the "R" word: RESULTS. Yikes.
In case you didn't know, the folks at Wiley have partnered with Patrick Lencioni and created an amazing new approach to building great teams. Instead of focusing on "The Five Dysfunctions of a Team," the new approach focuses on "The Five Behaviors of a Cohesive Team." WOW!
Having been involved in these workshops, the results are phenomenal. Using a DiSC based assessment tool, every member on the team gives input anonymously and a team score card, of sorts, is developed. This changes everything. Instead of focusing on theory of what makes teams work, we focus on what is working – and what isn't – with a specific team. It's not training at all – hard to imagine – but definitely a game changer.
What are these Amazing Five Behaviors?
Trust One Another

Engage in Conflict Around Ideas

Commit to Decisions

Hold One Another Accountable

Focus on Achieving Collective Results