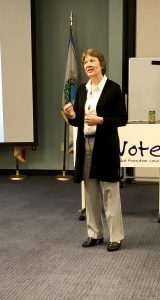 Lorna Kibbey, M.B.A., C.P.M., is a professional speaker specializing in leadership, communication, and motivation. Leadership solutions include speaking, training, workshops, meeting facilitation, coaching, and consulting.
She is certified to conduct workplace assessments; workshops for teams; and workshops for all levels of employees; using Everything DiSC.
Motivational speaking is a specialty for all audiences.
All solutions are custom designed to meet your needs and are delivered interactively. Our clients include private and public sector organizations from very small to very large.
If you have any questions or would like to talk further about anything, please send an email or call 239-851-8773.