Finding the Key to Success – A Graduation Keynote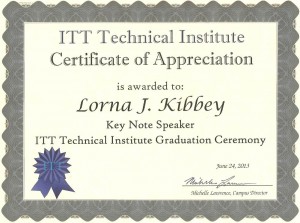 On June 26, I had the honor of delivering the keynote address at ITT Technical Institute's Graduation Ceremony. It was a wonderful event – one that reminds you of all the promise the future holds. It was a touching experience to look at the faces of those graduating – and the faces of their families and friends, and see the joy that was there as a result of their achievement.
When writing my speech, I looked deeply to find the right way to say words that would be motivational – and remembered. In reviewing the ITT Technical Institute website, I took a side trip to the student handbook – and there I found the words I needed.
You see, it turns out that these students had the keys to success with them from day one at ITT. On page two of their handbook, students are told that research has shown five keys to achieving maximum potential.
Clarify your vision
Be positive
Become goal oriented
Take action
Build relationships
Since these words were part of their ITT experience, I used these keys to construct my message to the graduates.
Constructing a personal vision is the first step. Clarifying that vision is something that must be done when there is a big life transition – like graduating from college!
In the student handbook, being positive focuses on self-image. My hope is that these graduates can draw from their success in school and hold on to that self-confidence they have so rightly earned.
Being goal oriented is critical to success and taking action to complete those goals is even more critical – one step at a time.
Fortunately, these graduates have a strong foundation in the relationship department. Their challenge will be to take time to maintain the relationships they have established at ITT and to build positive new relationships that will benefit them in the future.
The real secret to success however, lies within each individual. Each person must take their own path. The truth is, every one of the graduates has the key to success already.  Their success at ITT has given them what they need – and it is much more than five points on page two of their handbook. I wish them heartfelt congratulations and best wishes for their future!
A big thank you to ITT Technical Institute for my invitation to speak – I loved sharing in the excitement of the day!
Lorna Kibbey