Discovered! Dedicated Public Managers in Miami!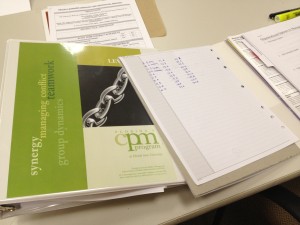 This week, I have been in Miami teaching classes for the Certified Public Manager (CPM) Program. It has been wonderful to spend time with a group of dedicated public managers who have volunteered to take big steps toward improving their knowledge and skills. These public managers are willing – even eager – to complete the requirements of a demanding certification program aimed at helping them to improve personal and organizational performance.
In CPM Level Two, we focus on learning about management of group performance. Having now completed the groundwork for two levels of the eight required for certification, the hard part begins. Now the participants will have to work at staying motivated to complete the assignments and exams that are required to complete the level.
Certification is something that must be earned – and it isn't easy – and it shouldn't be! As a Certified Public Manager, I want my credentials to mean something. Every time someone completes the requirements and takes another step toward certification, the value of my CPM certification increases. So, I want these folks to succeed! I hope that everyone who knows the people who just spent an additional 32 hours of work time in the classroom, will join me in giving them our full support!
CPM is a nationally recognized program whose goal is to improve both individual and organizational performance of city, county, and state governments. The program consists of 32 days of classroom training and requires outside assignments and open-book exams. There are eight levels of CPM with the first four levels focusing on individual and team skills and the last four levels focusing on management of complex organizations, large systems, and policy formation.
Kudos to the Department of Transportation for investing in their employees and their future. And big time kudos to the individuals willing to do the work and earn the certification. You can do it!
Lorna Kibbey